Attorneys in the Community – Wendy Greve
Charleston attorney, Wendy Greve, got the chance to present at the West Virginia Municipal League's annual conference on the topic of "Government Restrictions on the Use of Social Media versus Government Liability for what is Done on Social Media". With attendees from municipalities all over the state, Wendy was able to reach a vast audience on such a topical issue. Pullin, Fowler, Flanagan, Brown & Poe, PLLC was also able to have a presence as a Platinum Sponsor of the event and host an exhibit table as well. Attorney, Johnnie Brown and Marketing Director, Jonah Skiles were also in attendance.
---


Congratulations to Kevin Robinson for once again being selected as one a member of The National Black Lawyers Top 100 for 2023! The organization was created to celebrate legal excellence by promoting attorneys who are subject-matter experts.
Keep up the excellent work, Kevin! We are proud of the recognition you receive for your work!
---


We are excited and humbled to be named one of Manage HR Magazine's Top 10 Employment Law Firms in the nation for 2022!
A huge thanks and congratulations to Johnnie Brown, Wendy Greve, Jacob Layne and several others in our firm that practice employment law on this great achievement! We hope to have continued success in 2023 and years to come!
---


Congratulations to Morgantown based attorneys, Tiffany Durst and Nathaniel Griffith, on beginning their term starting January 1, 2023 serving as President and Vice President of the Monongalia County Bar Association!
---


On October 10th, we hosted our 7th Annual Duane Ruggier MS Golf Tournament at Sleepy Hollow Golf Club as a fundraiser for the MS Society, an organization formed to help fight and end Multiple Sclerosis. We are happy to announce that 2022 was our biggest year yet!! With 24 teams, 96 golfers, and 24 Tournament Sponsors, we were able to raise over $15,000 for the MS Society, besting last year's record of $12,000!
---
On March 21, 2022, the WVSCA granted a Writ of Prohibition filed by Keith Gamble on behalf of his client March-Weston Company, Inc. The ruling clarified the much debated application of the West Virginia non-party statute, § 55-7-13d. The ruling produced a new syllabus point that states non-parties shall be considered by juries for assessing percentages of fault in a jury trial.
---


Congratulations to Beckley located PFFB&P, PLLC Attorney, Daniel Burns!
Daniel was nominated and elected to a term on the Board of Directors for the Beckley-Raleigh County Chamber of Commerce in October. The mission of the Beckley-Raleigh Chamber of Commerce is to collaborate with leaders to build a vibrant, sustainable, and inclusive business community. The Beckley-Raleigh County Chamber of Commerce Board of Directors is comprised of business member representatives. Directors meet monthly to discuss chamber operations, committee goals and action.
---
For 20+ years, Pullin, Fowler, Flanagan, Brown & Poe, PLLC has participated in the Toys for Tots Toy drive each holiday season to collect gifts for less fortunate children at Christmas time. A big shoutout to Lori Muldoon for taking over this effort the past few years and making sure the tradition continues at our firm!
To learn more on how to donate to the Marine Corps Toys for Tots, visit: https://www.toysfortots.org/Default.aspx
Click here to read more about Lori Muldoon.

---
Congratulations to PFFB&P, PLLC Attorney, Evan Olds!
Evan was granted summary judgment in a Will contest case. Several years ago, Plaintiff sought to have her mother deemed incapacitated/incompetent in Virginia after her mother excluded her from her Will; the Virginia Court denied the petition. Plaintiff then filed suit in Berkeley County contesting the Will, arguing that her mother, who had since passed, was subject to undue influence and lacked testamentary capacity—issues already decided by the Virginia Court.

---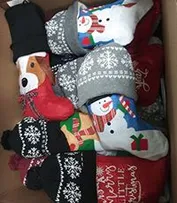 Thanks so much to everyone that donated to help us support Holiday Stockings for Heroes! We were able to put together 27 stockings that left Martinsburg en route to a Pennsylvania National Guard Troop that is stationed in the Arab Republic of Egypt's Sinai Peninsula for the Holidays! These stockings included items such as a note of encouragement, hot cocoa packets, teddy grahams, chewing gum, chap stick, Slim Jim's, Pringles, holiday candy, playing cards, puzzle books, travel checkers or dice, peppermint sticks, tootsie rolls, toiletries, gloves, hats, notepads, and batteries.
---
Each year, the Monongalia County Bar Association collects donations for the The Pantry Plus More in Morgantown, WV to purchase turkeys for the organization to give out during the Thanksgiving season. This organization consists of in-school pantries that make sure children have access to food and basic hygiene products so they can focus on learning instead of worry about their next meal.

Pullin, Fowler, Flanagan, Brown & Poe, PLLC attorney, Tiffany Durst serves as Secretary for the Mon. County Bar Association and was happy to report that $2,725.00 was raised by the November 3rd deadline for the purchase of Thanksgiving Turkeys. PFFB&P was happy to contribute to such a worthwhile cause!
Click here to read more about Tiffany Durst.
---
For the past two years, our own Johnnie Brown has served as 8th President of the National Association of Dealer Counsel. This national organization is comprised of attorneys who represent automobile and other vehicle dealers. The NADC provides a forum for members to share information, common experience, and advice related to manufacturer franchise issues, lemon laws, vehicle finance, regulatory complexities, insurance laws, tax laws, buy/sell agreements, employment law, and many other issues facing dealers and their counsel today.
---
Pullin, Fowler, Flanagan, Brown & Poe is excited to once again host the Duane Ruggier MS Golf Tournament. After an absence in 2020 we are pleased to resume the event and raise money for MS research. Please help the cause by participation and spreading the word.
Click here to read more about Duane Ruggier.
---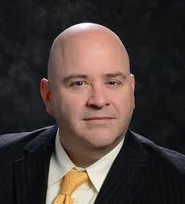 PFFB&P member, Keith Gamble, recently obtained a favorable ruling from the West Virginia Supreme Court of Appeals. Mr. Gamble defended his client, the City of Ranson, against the Petitioners' efforts to overturn the Trial Court's dismissal of petitioner's suit. Prior to dismissal, the Circuit Court had ordered Plaintiffs to show cause why their action had not been deemed moot. Instead, the Plaintiffs moved to amend to add substantive claims not previously presented. The Trial Court denied the Motion to Amend and dismissed the suit. Plaintiffs appealed the Circuit Court's denial. The Supreme Court affirmed, finding no abuse of discretion because the facts underlying the newly raised claims were present at the time of the original complaint. The Court ruled via Memorandum Opinion rejecting the appeal and upholding the lower Court decision. Congratulations Keith!
Click here to read more about Keith Gamble.
---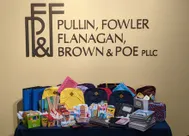 The Pullin, Fowler, Flanagan, Brown, & Poe Tools for School drive was a huge success! We collected 12 back packs, 30 notebooks, 18 glue bottles, 12 marker packs, countless pencils, folders and so much more! These items will be distributed to students in our area. Many students don't have the basic school supplies they need to succeed but with your generous donations that number will be significantly less. These supplies will help prepare students for the classroom, so they are ready for a successful school year. United Way was very pleased with all the supplies-they even thanked us on Facebook!
---

The WV State Bar is pleased to announce this month's MoreThanALawyer recipient, Duane Ruggier, a litigation attorney with Pullin Fowler Flanagan Brown & Poe, PLLC in Charleston, who has relentlessly advocated for a more accessible West Virginia to those challenged with a physical handicap. Duane was nominated by Vic Flanagan and Monica Nassif Haddad. Read below for Duane's inspiring story.
---
What is our MoreThanALawyer campaign all about? It highlights all the ways West Virginia's attorneys impact lives within and outside of their profession. West Virginia's lawyers are service members, volunteers, mentors, coaches, musicians and committed advocates. In all of these roles, they make a difference in their community. Each month we share a MoreThanALawyer story on West Virginia State Bar's Facebook and Twitter pages.