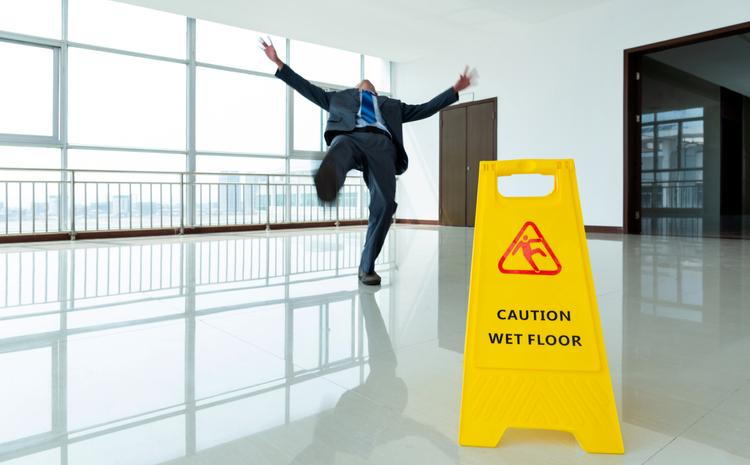 posted: Sep. 20, 2022
Keith Gamble
Slip and fall accidents result in some of the most common and costly lawsuits faced by commercial property owners and managers in West Virginia. Generally, anyone in charge of a parcel of property has a duty to keep it free from dangerous conditions or at least to post visible warnings. But what if a visitor slips and falls due to a condition so self-evident that no warning should be necessary?  
Until 2013, West Virginia law had provided property owners and managers with a complete defense for accidents caused by hazards that were "open and obvious." That year, the state Supreme Court used a slip and fall case to abolish the defense. But in 2015, the state legislature responded with a statute that "reinstates and codifies the open and obvious hazard doctrine … to its status prior to the decision." The statute states that a property owner or landlord "owes no duty of care to protect others against dangers that are open, obvious, reasonably apparent … and shall not be held liable for civil damages for any injuries sustained as a result of such dangers." So, if a shopper in a supermarket is injured due to slipping in a puddle of spilled liquid that is clearly visible, the store may raise the open and obvious defense.
However, premises liability cases are highly fact-specific. As long as a plaintiff's complaint includes enough facts to support an inference that the danger was not open and obvious, it is usually difficult for a defendant to have the case dismissed on summary judgment. Whether a hazard was open and obvious is a factual question and such questions are left to the jury.
There are also recognized exceptions to the defense, including the distraction exception. For example, imagine it was a rainy day and as customers entered and exited a business, the entry way became slippery. The slipperiness of the floor might be something a reasonable person would expect on a rainy day. But suppose the business had loud music playing in the entry way. The plaintiff could argue that he or she was distracted by the music, which took their mind off the slipperiness of the floor.
The 2015 statute requires a court, in applying the open and obvious doctrine, to consider whether the property owner or manager violated any statute and, if so, the nature and severity of the violation and its relation to the cause of the accident. This is a finding of law that may invalidate the defense. An experienced premises liability defense lawyer can thoroughly analyze a slip and fall case and determine the viability of the open and obvious doctrine.
The lawyers of Pullin, Fowler, Flanagan, Brown & Poe, PLLC have decades of experience defending property owners and managers in slip and fall cases. To arrange a consultation in Charleston, Beckley, Morgantown or Martinsburg, please call 304-344-0100 or contact us online.